It was over in the blink of an eye today and that was very disappointing! Chung was forced to retire with blisters at 1/6 *2/5. It was hard to see a way back from there anyway, let's be honest! Federer came out firing and Chung never really settled. Yes, I am sure nerves played there part in that but the movement was clearly restricted as the picture below shows! OUCH! His agent was quoted as saying "Over the last few days, it was blister under blister under blister. He had it shaved off. Now it's red raw. They tried injections to see if it numbed the pain. It didn't work. Much worse than a regular blister."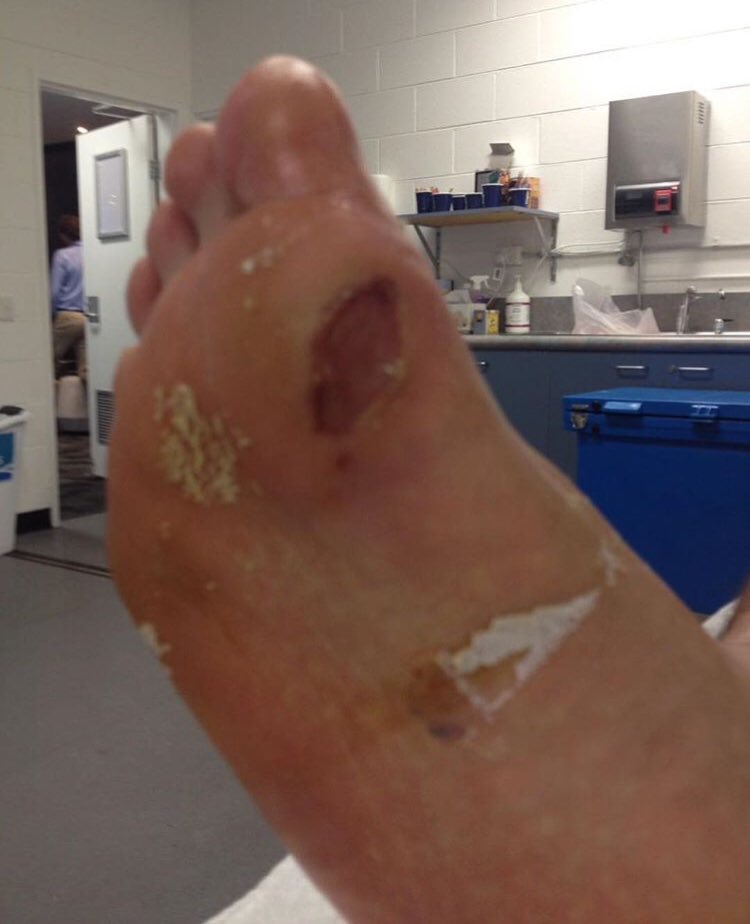 It means the Fed-Express has made his way to the final without dropping a set. He has had an easy time of it and the draw has just opened up for him. Bedene, Struff, Gasquet, Fucsovics, Berdych and (an injured) Chung have all fallen by the wayside. Hey-ho though as they say, you can only beat what is put in front of you and he has done that comfortably. One match away from number 20 for Fed. He talked about all of his possible tactics after that match today and it was all about variation. Pace, take a bit off at times, serve and volley, slice, bring his opponent in etc etc. If he executes like that on Sunday it doesn't look great for the Croat.
Federer has been exceptionally complimentary about Cilic and how he really likes his "attitude" and says that he is a "winner" and not just happy to make up the numbers. This will be put to the test on Sunday when the two go head to head. Federer currently holds an 8-1 head to head including the Wimbledon final last year. Cilic's only win came in the quarter-finals at Flushing Meadows back in 2014, so at least he knows he can have the beating of him. The Fed-Ex wasn't in the same form back then but it will still fill him with a bit of confidence. He did, of course, go on to win the US after beating him that year.
On to the Ladies final tomorrow morning. I, for tennis and financial reasons, would love to see Wozniacki win but on paper, there is not much in it. I have nothing against Halep but it would just be great to see Caro win this! She is still the slight underdog. I really think it will come down to who is ready to win this and steps up to the plate on the day when it matters most!
Andy Del Potro